International Reply Mail Service
Reply mail service is an easy way for your customer to make orders, respond to a questionnaire and ask for contact. It is free of charge to the customer, and you only pay for the returned shipments and the monthly fee for the service. The reply mail service is also well suited for the administration.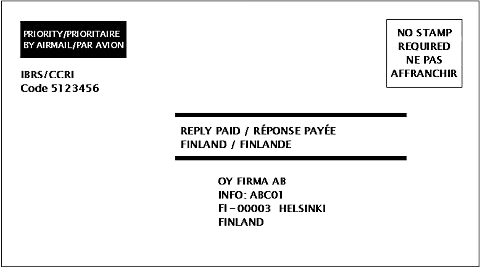 The service is available all over the world. It is an easy way to collect answers and feedback. The International Reply Mail Item increases the amount of feedback as it is easy to use and free of charge for the sender. The recipient only pays for the actual returns.
The reply mail item can be a preprinted coupon, envelope, card or box. Its indication includes two thick horizontal lines. The horizontal lines must be 3 mm thick and placed 14 mm from each other.
Download the payment indication
The indications should be made in English and/or French. All indications should be printed in a dark color, preferably black or dark blue, so that they stand out well from a light-colored background. They can be printed on an adhesive label. Handwritten indications are not accepted.
International reply mail items are returned to Finland at the speed of a Priority letter. They are sorted and delivered at the speed of a domestic Priority letter. Markings are printed in French or English and the postal code is FI-00003 HELSINKI
Basic Product Information
Maximum weight for international service
| | |
| --- | --- |
| 2 kg | Austria, Belgium, the Czech Republic, Denmark, Estonia, France, Greece, Hungary, Iceland, Ireland, Latvia, Lithuania, Luxembourg, the Netherlands, Norway, Poland, Portugal, Romania, Spain, Slovakia, Slovenia, Sweden and Switzerland |
| 1 kg | Germany and Italy |
| 50 g | Other countries (Not available to Bulgaria) |