Country information
Mail delivery to Syria and Libya is not possible
Due to the instability in the countries, mail is not delivered to Syria and Libya at the moment.
Information on country-specific pages
The service options available for each country
Mail delivery times, minimum and maximum dimensions and weight (Posti is not liable of any delay which may be caused by the Customs procedures of the country of destination)
Exclusions and restrictions on the content of mail by country
The country-specific exclusions already prevent sending. Restrictions are controlled in the destination country.
Select the destination country of your item here. In Finnish only.
It is strictly forbidden to send items such as dangerous goods, animals, illegal or improper contents and weapons by post. Prohibited items vary by destination country.
A commercial invoice or proforma invoice is needed for mailings to destinations outside the EU and to special regions outside the EU excise and value-added tax region.
Customs slips and declarations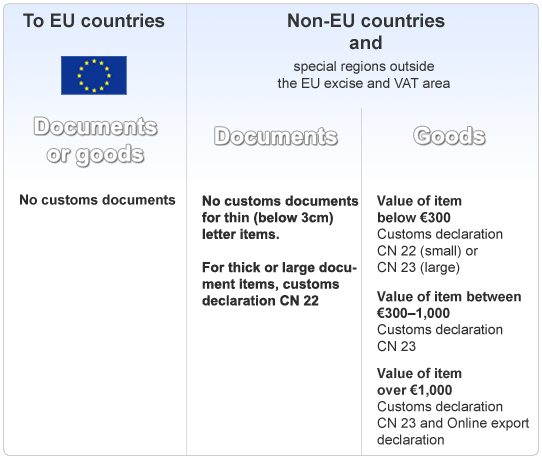 Fill in and print a small customs declaration (CN 22)
Fill in and print a large customs declaration (CN 23)
Customs Tariff designations
for commercial shipments to outside the EU. List maintained by the Universal Postal Union.