Mailbox Placement and Grouping
According to the Postal Act, Posti Ltd is obligated to determine the location of mailboxes. You must contact Posti's Customer Service before mailbox placement. A local representative of Posti will contact you and specify the mailbox location according to your address. Posti determines the mailbox location according to the Postal Act and the regulation by the innish Transport and Communications Agency. The mailbox must be placed in the spot defined by Posti.
In an urban area's street and public road environment, a mailbox or a group of mailboxes should be positioned about 50 cm from the edge of the pavement or the curb.
In sparsely populated areas, mailboxes or groups of mailboxes are positioned, facing the road, about 50-70 cm from the outer edge of the curb or lay-by, and about one metre from the edge of the roadway. If the road is very steep, or a designated lay-by has been built for mailboxes, the boxes can be positioned closer to the road.
Mount and support the feet of the mailbox or mailbox group well into the ground, to a minimum depth of 40 cm. The recommended height of the mailbox's delivery slot from the road surface is 100 cm.
Starting from the right, mailboxes are positioned in numerical order, from the smallest number to the largest..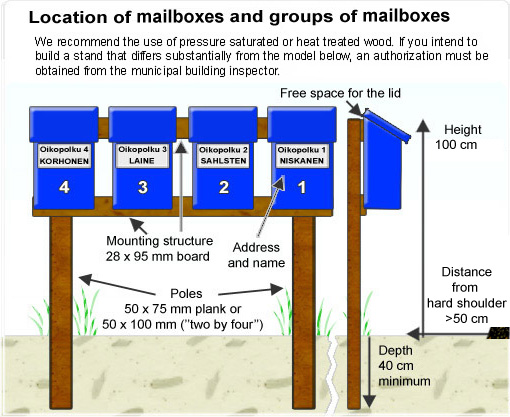 Mailbox grouping
Mailboxes for detached houses are primarily located in uniform groups. Mail delivery is a labor-intensive sector where delivery costs per delivered item increasingly rise as a result of higher delivery expenses and fewer items to deliver. The purpose of grouping is to ensure cost-effective mail deliveries..
Placing a mailbox at customer's needs
The mail recipient may agree on delivery that takes place closer to the recipient than the mailbox location depending on the address. Learn more about The Nearby Mailbox service.
Based on special personal needs, the mail recipient is entitled to receive the service level in question free of charge. Read more.
Instructions