Delivery types and materials for online retailers
Displaying Posti delivery types in a consistent manner provides an improved shopping experience for customers. With these instructions, you can update information on delivery types on your website and use it in your advertising. This will allow consumers to easily find their preferred delivery types.
Posti logo and icons
Use the logo of Posti when you offer the delivery type or method of payment of Posti in your e-commerce. In addition to the logo, you can use icons which describe our services also.
Materials for online retailers
Use these ready-made materials to tell your customers that their preferred delivery method is available in your online store.
Download the editable materials and the related instructions
Content:
Posti's deliveries starting from EUR X.XX banners (you may specify the price your customers pay)
Climate-friendly transport banners
Delivery to a Posti Parcel Point banners
Parcel routing banners
Home delivery banners and shop poster templates
How to get Posti pickup points as delivery type in a web store
Posti's pickup points are Posti's parcel lockers and outlets in shops, grocery stores and kiosks. The network consists of almost 2,000 pickup points in Finland and grows rapidly, especially in shops, company premises and with parcel lockers in apartment buildings.
To have the most up-to-date list of available pickup points in your web store and to be able to use the newest services we offer web stores, such as Fast track and weekend deliveries, please use Posti's Location Service interface when searching for pickup points.
How to tell about Posti's delivery types in your online store
We have written pre-prepared texts for you for introducing different delivery types. The text in italics is instructions for you - do not copy it to your online store.
Showing delivery method options in the online shop user interface
The delivery method options may be presented in the user interface of the online shop in a pull-down menu or as radio buttons. The delivery method is usually selected in the shopping cart.
Read more about integrating parcel services directly in your online shop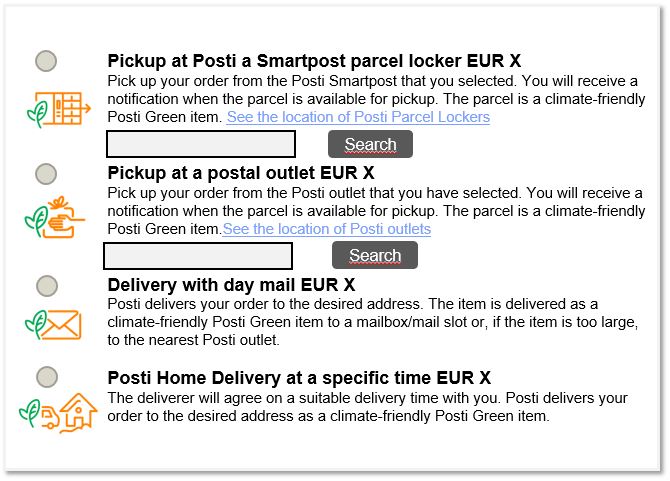 Returning e-commerce items in Finland
The Customer Return service is used in e-commerce for returning products at the retailer's expense. The consumer may return the products packed by him/her to the address indicated by the online store either through a postal outlet or a parcel locker. Posti charges you for the transport of the returned item.
Customer instructions for returning items when the online store pays for the return.
Return
You can return your order free of charge via Smartpost parcel locker or a postal outlet. Pack the items carefully.
Return a parcel using a Helposti code
Order your return code from the address posti.fi/palautapaketti by entering the item ID (a code beginning with JJFI). Return the parcel to the Smartpost parcel locker or a postal outlet, following the instructions.
Return a parcel wihtout a Helposti code
You can return a parcel through a Posti outlet. Attach the Customer Return address label that we provide you on the parcel or write our return ID xxxxxx (=the logistics contract number of your online store) on it.
Return through a Posti mailbox
Write our return ID xxxxxx (=the logistics contract number of your online store) and our return address on the item:
Company Ltd
CUSTOMER RETURN
Street Address 1
00000 City
International customer return
An online store that has signed an international customer return contract (ERS) can offer its customers product returns free of charge from abroad to Finland. Abroad the return can be left at the returner's closest postal outlet. The Finnish online store will receive an invoice for the postage fee of the return.
Customer instructions for returning items when the online store pays for the return:
Return
You can return the ordered items free of charge through Posti. Pack the items carefully.
Special cases
If the delivery type selected by the consumer is not suitable for sending the product, we recommend that the following, for instance, be added to the online store's general terms of delivery:
We reserve the right to send small items as letters to your home address.
We reserve the right to send items exceeding the parcel point maximum dimensions to a postal outlet.
Item tracking
In the order confirmation it is worth telling customer how to follow its journey with Posti's item ID. Example text:
When you fill your e-mail address, we'll send the item ID to your e-mail and you can follow its journey. Posti's Item Tracking: www.posti.fi/itemtracking
Parcel routing
If your online store does not feature the possibility to select a pickup point, inform your customers of the parcel routing service. With this service, the customers can choose from which postal outlet or parcel point they wish to pick up their parcels.
With parcel routing, you can receive the parcel at the postal outlet or parcel point that is most suitable for you. You can use the service free of charge. Route your parcel here > https://www.posti.fi/private/receive/receiving-items.html
Posti's mobile application
With Posti's mobile application, your customer has access to the automatic Item Tracking. By activating his/her own mobile phone number in the application, the customer is automatically informed of items without having to enter an item ID. The application also provides information about the size, schedule and location of the incoming item and directs the user to the correct pickup location with the aid of a map.
You can tell about this convenient service in your online store as follows:
Start using Posti's mobile application. Select the most suitable pickup location for your purchases in the application and track your item.
Download the Posti application to your smartphone from your phone's application store.