Changes in postal services
On this page you can find information about the changes to letter, publication and marketing services that will take effect in 2017. The aim of the renewal measures is to continue to ensure reliable and high-quality services to our customers. The changes apply to areas such as Tuesday mail delivery and the delivery speeds of letter and publication services as well as the Customer Direct product.
Read more about:
This page will be updated as we progress with the changes.
Changes in delivery days as of July 18, 2017
The reform will bring about changes to the products delivered on Tuesdays. The reason behind the changes is the substantial decline in mail volumes caused by digitization. These changes require the introduction of a new delivery rhythm over different weekdays in order to control delivery costs.
The change will have no effect on early-morning newspaper delivery or the delivery of parcels.
What does the change mean in practice?
In conjunction with the service reforms in March 2017, basic deliveries on Tuesdays will continue to cover the majority of newspapers as well as parcels, express letters and laboratory items.
Following the implementation of the reforms, Tuesday deliveries will no longer cover magazines, advertisements, letters and free publications, provided that all early-week items have been delivered on Monday. Outgoing letters and parcels will be picked up as usual.
For customers who have ordered the pick-up and delivery service, we will continue to deliver and pick up items five days a week, but Tuesday deliveries will be subject to the same changes as Tuesday daytime deliveries in general.
Corporate Postal Code holders will continue to receive all mail five days a week. Read more about Corporate Postal Codes.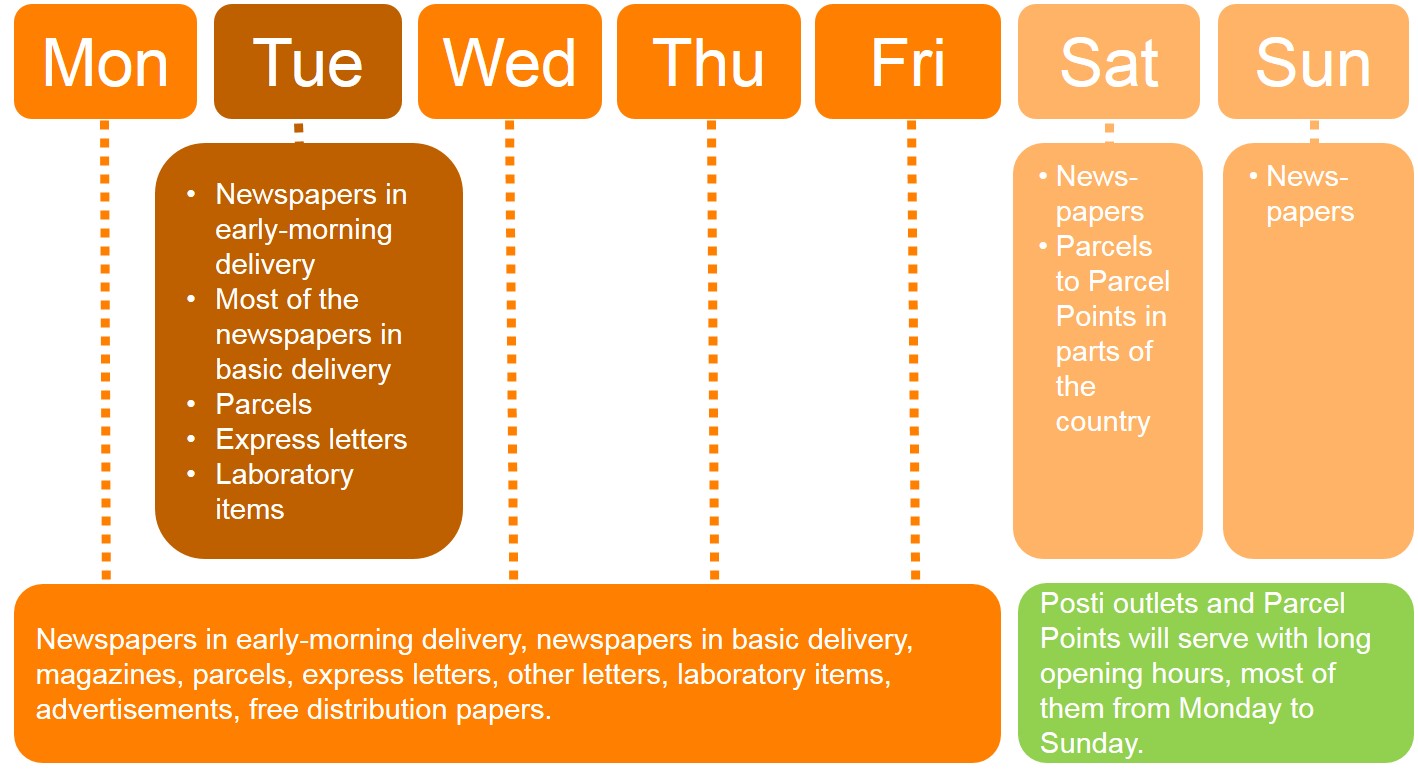 Why are the changes necessary?
Letter and publication delivery volumes continue to fall. Communications are now largely conducted electronically, which has led to a reduction in traditional mail volumes.
Letter, newspaper and magazine delivery rates are falling by approximately 10% annually, which drives up delivery costs. The less mail there is to deliver, the higher the cost of processing each individual item.
Posti must find ways to control delivery costs. For some of our customers, the cost of deliveries is more significant than retaining five-day deliveries. We cannot proceed with price increases alone.
Introducing changes to our delivery days is one solution for controlling delivery costs. The changes give us more flexibility in scheduling mail transport, sorting and delivery. Reduced postal volumes will be combined into larger units for handling. The basic delivery will be lightened on Tuesdays, which means fewer kilometers and brings fuel savings. The change helps ensure the continued provision of high-quality mail delivery services going forward.
What does the change mean for senders and mail recipients?
Our senders will benefit as the upward pressure on our delivery costs drops. We may need to renegotiate some weight and delivery schedules.
In practice, the change will affect mail recipients very little, because traditionally less mail is delivered on Tuesdays than on other days.
The expectations of mail recipients concerning delivery days are important, both for senders and for Posti. Many magazines are delivered towards the end of the week, and the same applies to advertisements. People relax by reading a magazine over the weekend, and they also make the majority of their purchase decisions during the weekend. Invoices are delivered within a few days of posting, which is sufficient for most mail recipients.