Online grocery shopping
Online grocery shopping is growing well. In 2017, the value of food sold online in Finland was already EUR 57 million (Market Survey Company Nielsen).
We offer retailers the broadest service areas and the most versatile delivery types for transporting food. All food items are transported in insulated transportation boxes with freezer blocks. This ensures an uninterrupted cold chain until 9 p.m. on the delivery day. The transportation solution has been approved by the Finnish Food Safety Authority Evira.
We deliver products to the consumer's home or to a Posti parcel locker at the time of his/her choice.
We serve food retailers through regional transportation in the Helsinki Metropolitan Area as well as in Lahti, Tampere, Turku, Seinäjoki, Jyväskylä, Kuopio, Oulu and their sparsely populated areas.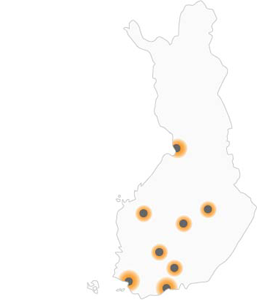 As a food retailer, you will benefit from cooperation with Posti
We will make your products available to the residents of the largest cities as well as their sparsely populated areas, which will allow you to reach customers over a larger area in a cost-effective manner.
Start off easy! Flexibility to help your sales grow: our transport fleet is scalable according to your needs.
We have long experience of online shopping and meal deliveries.
Doors are opened to Posti - we are a trusted high-quality supplier.
We also deliver food products for pick-up from Smartpost parcel lockers in offices and apartment buildings.
You can track your items in real time.
Your customers will also be satisfied
They receive their orders either at home or in a Posti parcel locker.
They can choose the home delivery time, which will be specified to within 30 minutes on the delivery day morning by sending an SMS message. Products will be delivered using regular mail on weekdays in sparsely populated areas. Delivery to Posti parcel lockers at corporate premises by 4 p.m. and in residential buildings by 5 p.m.