Posti Specimen Item

A reformed service for sending laboratory samples through Posti SmartShip starting from January 1, 2017
The service addresses the need for delivering letter-sized animal or human laboratory samples quickly and reliably on the next day. The service includes tracking. Delivery speed is on the next day following the sending.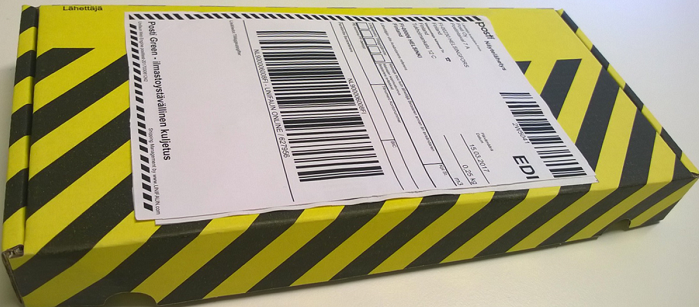 A reformed service for sending laboratory samples through Posti SmartShip starting from January 1, 2017
Dimensions
The Sample Item is sent in a package with yellow and black stripes.
Minimum size: 90 x 140 x 0,2 mm, Maximum size: length + width + height maximum 900 mm, maximum length 600 mm, Maximum weight: 2 kg.
Address marking
The address label of a Specimen Item, which can be printed from Posti SmartShip, is used on sample items together with the Specimen Item's postal code in which the second digit is always 1 and the final digit is 6.
For example, the recipient's address is Postintaival 7 A, 00230 Helsinki, Finland. When a Sample Item is sent to the address, the address is Postintaival 7 A, 01006 Helsinki, Finland
Additional services
Saturday Delivery and Payer other than the sender.