Pre-Paid Envelope
Simplify your mailing routines
Your contact details and required payment indications are printed on the Pre-Paid Envelope. If your mailing volumes vary or your company operates in multiple locations, the Pre-Paid Envelope is a really convenient option.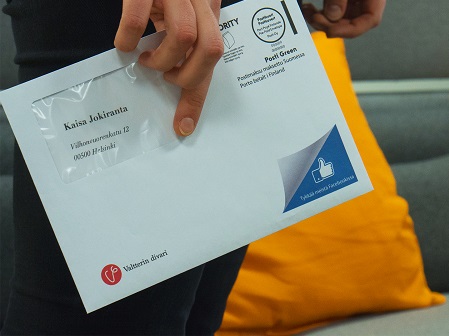 The price of Pre-Paid Envelope is based on the postage fees and the printing and the material of envelopes.
You will get an envelope with a suitable logo and print for your company.
Items can be dropped off at a Posti outlet or in a mailbox. You don't need to make a separate mailing list.
Domestic and international mailings have their own Pre-payed envelopes. Pre-payed envelope abroad includes worldwide postal fee.
Basic Product Information
Envelope store backup system
If the envelope store is out of use due to a system failure, you can send the envelope order to the envelope manufacturer's e-mail. In these cases, we will not charge a processing fee (EUR 10,00/item) for orders placed by e-mail.
Information required for the order:
Customer account number
Delivery address
Invoicing address
Product and service level (Economy/Priority)
Amount
Colors
Additional information regarding the product, such as weight class, envelope size, size of the window
Contact information of the person placing the order
Envelope type (see the product catalogue)
Submit the order to the envelope manufacturer by e-mail.