E-invoice
With Posti's Network service, you can send e-invoices to corporate recipients. You do not need investments or a separate invoicing system.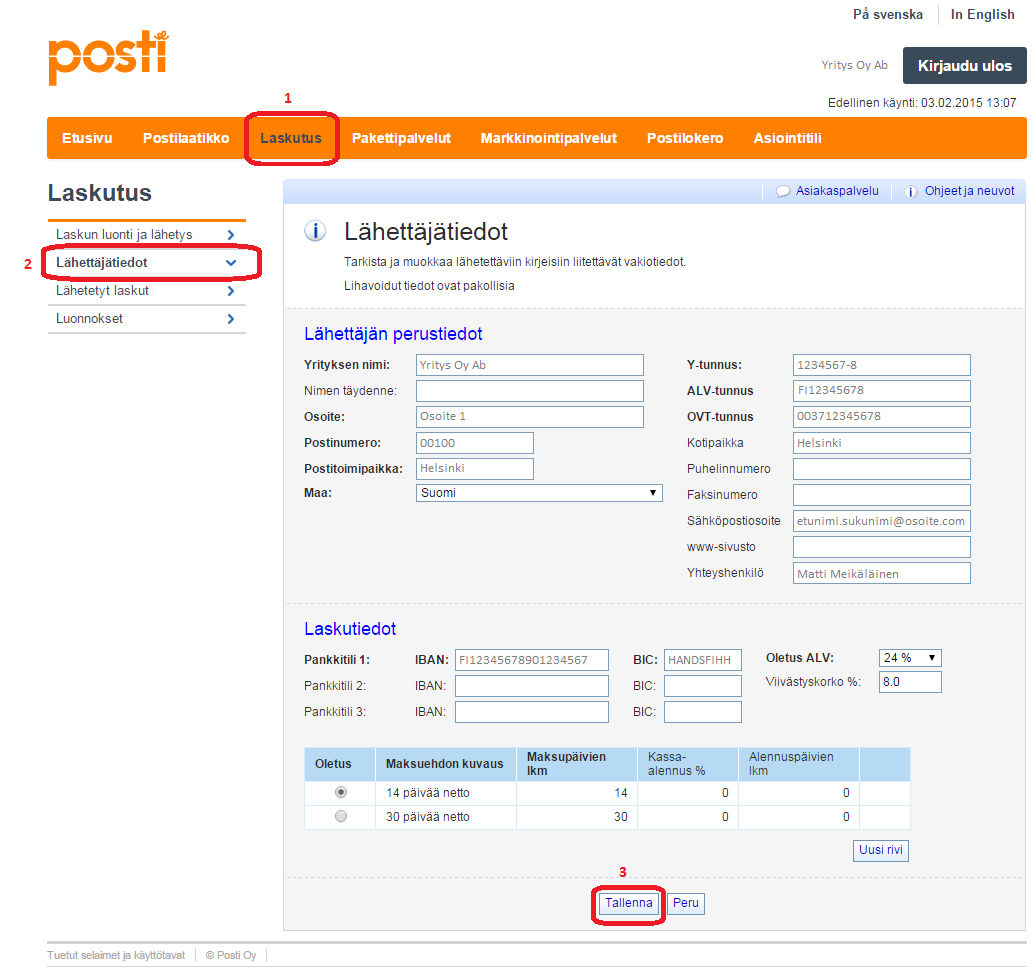 Select invoice from navigation (1).
Click left navigation sender information (2).
Complete and save the data (3).
After that you can go and make an e-invoice.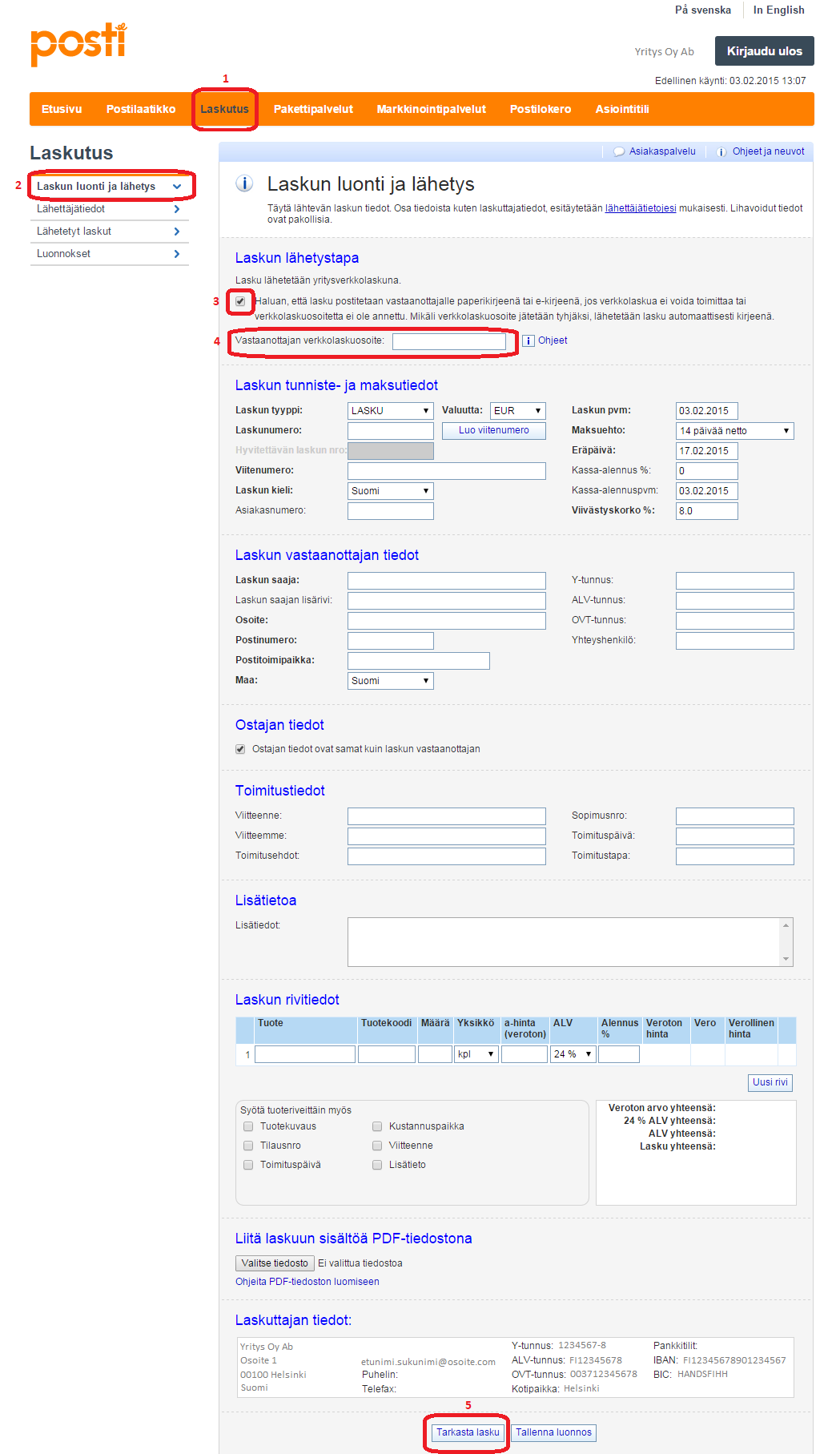 You can create a new invoice from an empty form or use the invoice you previously submitted.
Select Billing (1) in the upper navigation and then Creating and sending invoice(2).
Tick (3) if you want the invoice to be mailed by paper or e-mail when the e-invoice can not be delivered or an e-invoice address is not provided
The paper invoice is printed, peeled and mailed to the address of the invoice recipient according to the traditional mail in 2. class (Economy)
Add the recipient's e-invoice address (4).
You can check the e-invoice address and the intermediary information used by the recipient of the e-invoice address maintained by Tieke.
Once the invoice information is specified, press the Check invoice button (5).

NOTE! The invoice content is determined by the sender's information on your business, the information on the invoice filling form, and the possible invoice for the PDF attachment you added.

The bold sections of the form are mandatory information.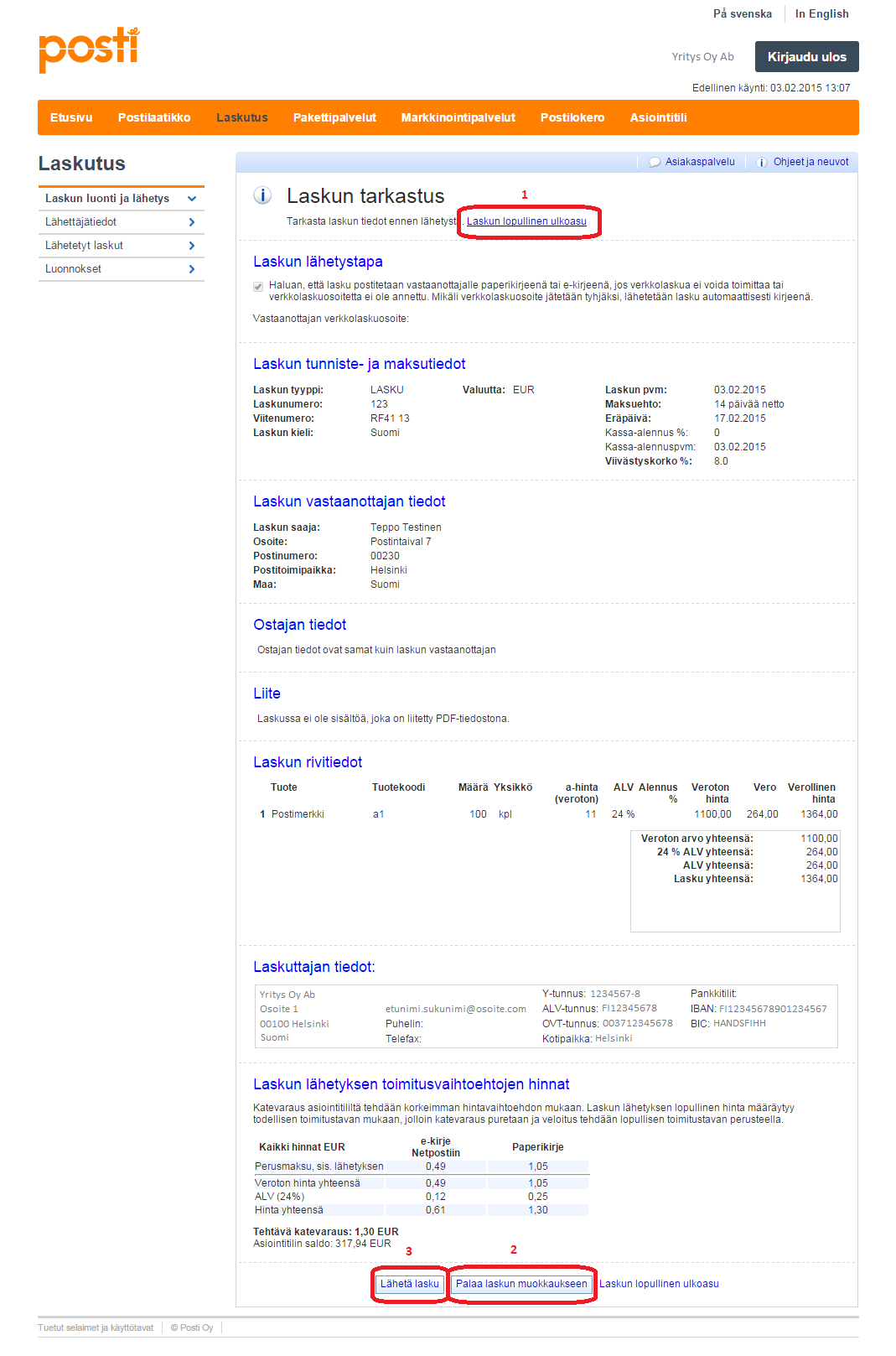 The system verifies that the mandatory information is provided and validates the information. After that, the invoice information is compiled on the check-on page of the Invoice Check page.
Check the final layout of the invoice from the link (1). If the invoice has something to fix, you can return to the form by pressing Returns to invoice editing (2) -button.
If the invoice is ready to be sent, click send invoice (3) -button.
Good to know
The posted invoice is not immediately received by the recipient. The delay is determined by the actual delivery method and the routing operator.
The e-invoice is automatically filed in the Sent Invoices folder. By opening your invoice you will see its details. The final layout of the invoice is delayed.
A posted invoice can be used as a basis for a new invoice by copying it to a new invoice.
Please note that any PDF attached to the invoice will not automatically be copied to the new invoice.