How to send laboratory samples as Express Reply Mail
A laboratory sample sent as a reply mail item cannot be delivered quicker using the Express supplementary service unless the receiving laboratory has an agreement for an overnight reply mail item. The laboratory has an Express Reply agreement if the second digit of the postal code is 1 and the final digit is 6. Sending samples by mail as reply items in black and yellow striped boxes is free of charge to the sender.
Express reply mail items can be sent to the following locations, and they are delivered to the laboratories with the below-mentioned postal codes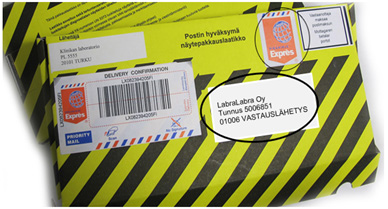 1. Address notations and the Express Letter label
The Express Letter label is used on the Express reply mail item.
The recipient's address notation is:
Company Ltd
ID 50XXXXX
X1006 REPLY MAIL ITEM
Write the sender's address notations on the front upper left-hand corner of the item.
2. Payment indications
The payment indication "The recipient pays the postage fee" must be located on the upper right-hand corner on the front side of the item.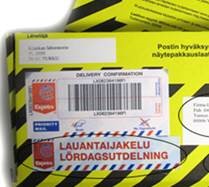 In addition, the Saturday Delivery label is attached to the items delivered on Saturday and the recipient's street address is marked on the item in addition to the reply mail item address in order to ensure Saturday Delivery.
Saturday Delivery has a limited service area
You can check the availability of Saturday Delivery by searching for the postal code of the place of dispatch and the receiving address from our delivery time inquiry. To see whether Saturday Delivery is in use, see: Items to be delivered to the recipient » Express letter. If Saturday Delivery is possible, it says here: Saturday Delivery: Possible
3. Leaving for shipment
You can leave the items for shipment by taking them to a Posti outlet. A laboratory sample must not be dropped off in a mailbox.
If the sender is a company, Posti can also pick up the samples based on an agreement or a separate order.
Also read the instructions about packing laboratory samples according to the Act on the Transport of Dangerous Goods and about classifications that affect the packaging markings: Instructions on sending samples