Parcel Point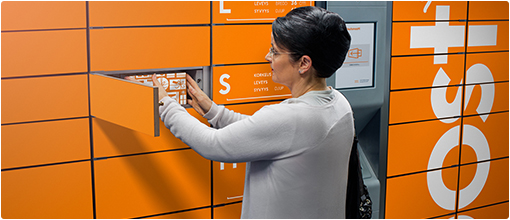 Posti Parcel Points are an easy way to send and receive parcels. At a Parcel Point, you can send a parcel to another Point in Finland or Estonia, or to any Posti outlet in continental Finland. Payment can be made conveniently with a debit or credit card with a chip.
Prices and locker sizes
Locker size

Maximum dimensions
height x width x depth

Price to Finland*

Price to Estonia*
S

11 x 36 x 60 cm

5,90 €
11,90 €
M

19 x 36 x 60 cm

7,90 €
13,90 €
L

37 x 36 x 60 cm

9,90 €
15,90 €
XL

59 x 36 x 60 cm

11,90 €
17,90 €
The maximum weight of the item in Finland and Estonia is 35 kg and minimum size 25 x 15 x 3 cm.
* Sending parcels weighing no more than 10 kg and paid in cash is exclusive of VAT. Sending parcels weighing more than 10 kg is subject to VAT. Posti will pay current value-added tax for all shipments subject to value-added tax. You will receive a separate receipt for taxation upon request.
Delivery times
Each Parcel Point is emptied and filled on weekdays from Monday to Friday. The Parcel Points in Turku, Tampere and the capital region are emptied and filled on Saturdays. Almost 300 Parcel Points and Posti outlets are covered by Saturday delivery. For example, the parcel you send from Kuopio on Friday can be picked up on Saturday from a Parcel Point located in Helsinki, for example. When you leave your parcel at a Parcel Point by 4 p.m. on any weekday, the parcel will normally be delivered on the following weekday (or Saturday) within a separately defined service area. Please note some Parcel Points have a different, earlier emptying time differing from 4 p.m., due to their location. You can check the emptying time of your Parcel Point on the Parcel Point start screen and on the Parcel Point map view.
Delivery time in Finland: The parcel can be picked up from Posti outlets and Parcel Points after 4 p.m.
Delivery to Estonia: Parcels sent to SmartPOST automatic parcel terminals in Estonia will reach the addressee on the second weekday (i.e. +1 day to the delivery time in Finland).
Location of Parcel Points: Parcel Points are situated in places with large customer volumes, such as shopping centers and stores selling consumer goods.
Instructions for sending and pickup