Business reply mail
The easier it is for your customers to respond and send items, the better your interaction works. Choose the reply mail service that best meets your needs.
Reply mail item
An easy way for your customers to make orders, send replies and ask you to contact them. It is also highly suitable for transactions with the authorities. The service is free of charge for your customers and you will only be invoiced for returned items. Once you have made a service contract, will provide you with a Reply mail code. Reply mail items use the postal code 00003 VASTAUSLÄHETYS, regardless of recipient's location.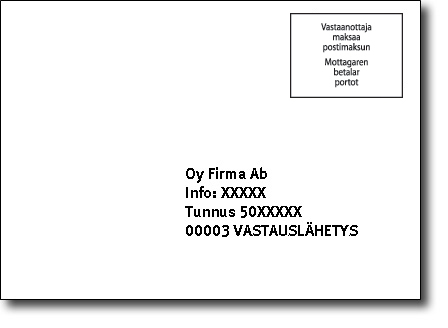 Contest reply
A convenient way for your customers to participate in various competitions and draws without buying your products. The sender pays the postage fee, saving you from paying for NO replies. Contest replies use the postal code FI-00232 HELSINKI and contestants can also write the contest reply address on a postcard or envelope by hand.
Maximum weight for international service
| | |
| --- | --- |
| 2 kg | Austria, Belgium, the Czech Republic, Denmark, Estonia, France, Greece, Hungary, Iceland, Ireland,Italy, Latvia, Lithuania, Luxembourg, the Netherlands, Norway, Poland, Portugal, Romania, Spain, Slovakia, Slovenia, Sweden and Switzerland |
| 1 kg | Germany and Italy |
| 50 g | Other countries (Not available to Bulgaria) |