An online service channel for small businesses
Posti offers you versatile web services for sending goods, invoices and advertisements and receiving electronic messages. The services are available 24/7 at rates lower than standard cash prices. Log in here
The following services are immediately available to you
A service account is an easy method of payment
With a service account, you can pay for the services you use easily and conveniently. The services will be charged from your account, and you will not be sent separate invoices for the use of services. You will be assigned a service account automatically when you become a customer. The service account is a method of payment that makes it possible to also make very small one-off purchases.
For bookkeeping purposes, you receive a receipt of the use of services directly into your electronic mailbox and account transactions can always be monitored in the service.
You can transfer money to the service account as an online payment or bank transfer in your online bank. When making a deposit, always use the company-specific reference number; otherwise the deposit will not be visible on your service account. You can withdraw the money from the service account whenever you want: it will be paid to the bank account you have indicated within 1-2 days. The EUR 10 starting balance deposited on the account cannot be withdrawn.
How to activate the service
1. Identify yourself
You can identify yourself through the Signom service, using your personal online bank user ID or mobile verification. You must have the authorization to sign for the company that you want to register for Network. Identification is required as Network contains your company's electronic mailbox for receiving letters and invoices.
2. Register
Once identification is completed, you will be moved to Network registration. Read the service description, accept the terms and fill out the required information.
3. Start using the service
You are now ready to start using Network. In the future, use your e-mail and the password you have selected as the credentials for the service.
Recommendations by our customers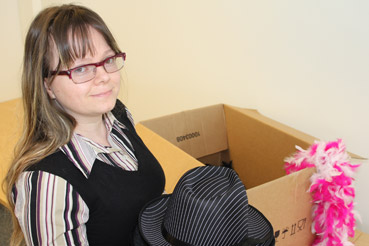 The parcel pick-up service saves time and money
Katja Palmu runs the Murhamysteerit event organizing service in Uukuniemi in North Karelia. It organizes murder mystery events for groups around Finland. The events are led by a number of assistants to whom the required props are sent in advance.
The entrepreneur became a Network user first and foremost for the parcel pick-up service it offers.
"From my home, it is 26 kilometers to the nearest postal outlet, so I became interested in Network as soon as I heard about it from a friend of mine," says Palmu. "I save time and money as I don't need to drive the long way to the post office. Now the props packages that I send are picked up directly from my home at a reasonable price."
Murhamysteerit has used Network's services since the beginning of the year. Palmu is satisfied with the service. She also considers the invoicing method suitable for small entrepreneurs.
"As there is no monthly fee, I don't need to pay for nothing, I only pay for the services that I use. I can recommend the service for other small entrepreneurs, too," comments Katja Palmu.