Sending an e-invoice
You can use Network to send e-invoices and related attachments to business recipients easily and affordably. E-invoices reach their destinations faster and, in the best case, the recipient will receive the invoice directly to their purchase invoice system.
Specifying sender information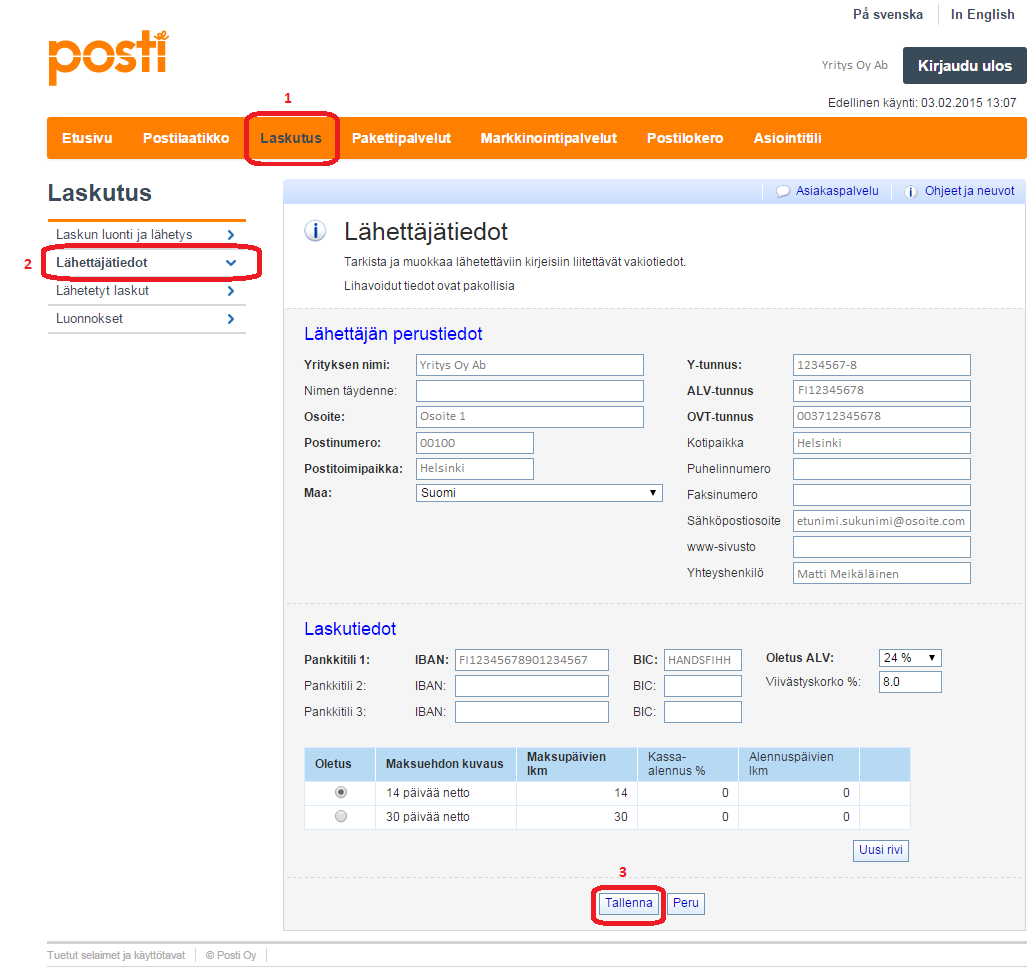 Select Invoicing in the top navigation (1).
Then click on Sender Information on the left side navigation (2).
Fill out the information and save (3).
After this, you may move to the view for Creating and Sending an Invoice to create the actual e-invoice.
Creating an invoice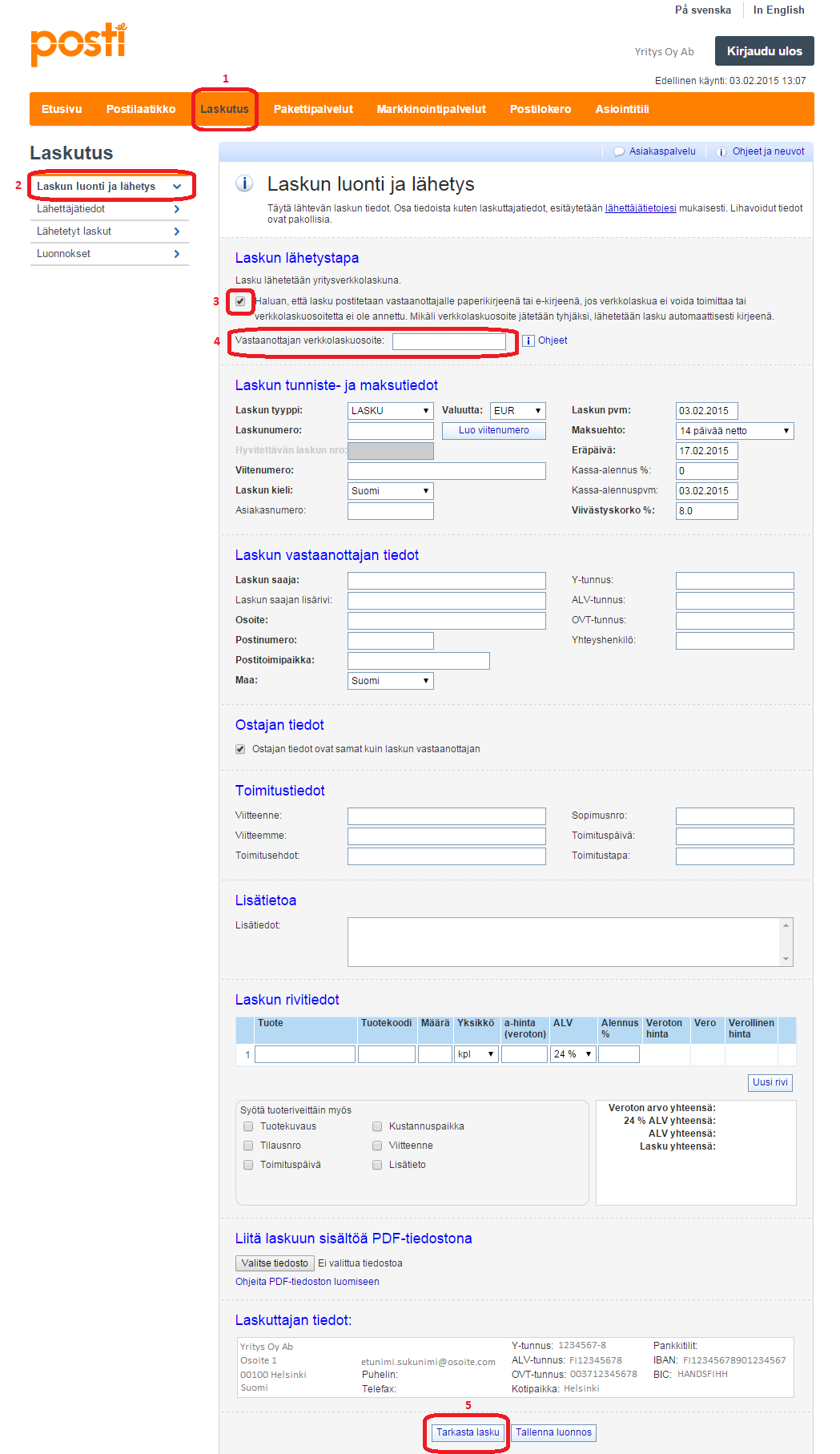 You can create a new invoice using a blank form or use a previously sent invoice as a template.
Click on Invoicing (1) on the top navigation and then on Creating and Sending an Invoice (2).
Check the option (3) if you would like for the invoice to be sent as a paper or e-letter in case an e-invoice cannot be delivered or no e-invoicing address has been provided.
The paper invoice is printed, enveloped and mailed to the address of the invoice recipient as a traditional 2nd class letter (Economy).
Add the e-invoice address of the recipient (4).
You can verify the e-invoice address and the information on the operator used by the recipient from the e-invoice site maintained by Tieke ry at http://verkkolasku.tieke.fi/ListCompanies.aspx
Once the invoice information has been specified, click on Check Invoice (5).
PLEASE NOTE! The contents of the invoice are determined by the sender information of your company, the information on the form filled for the invoice and any PDF attachments added to the invoice.
The items shown in bold on the form are compulsory.
Checking an invoice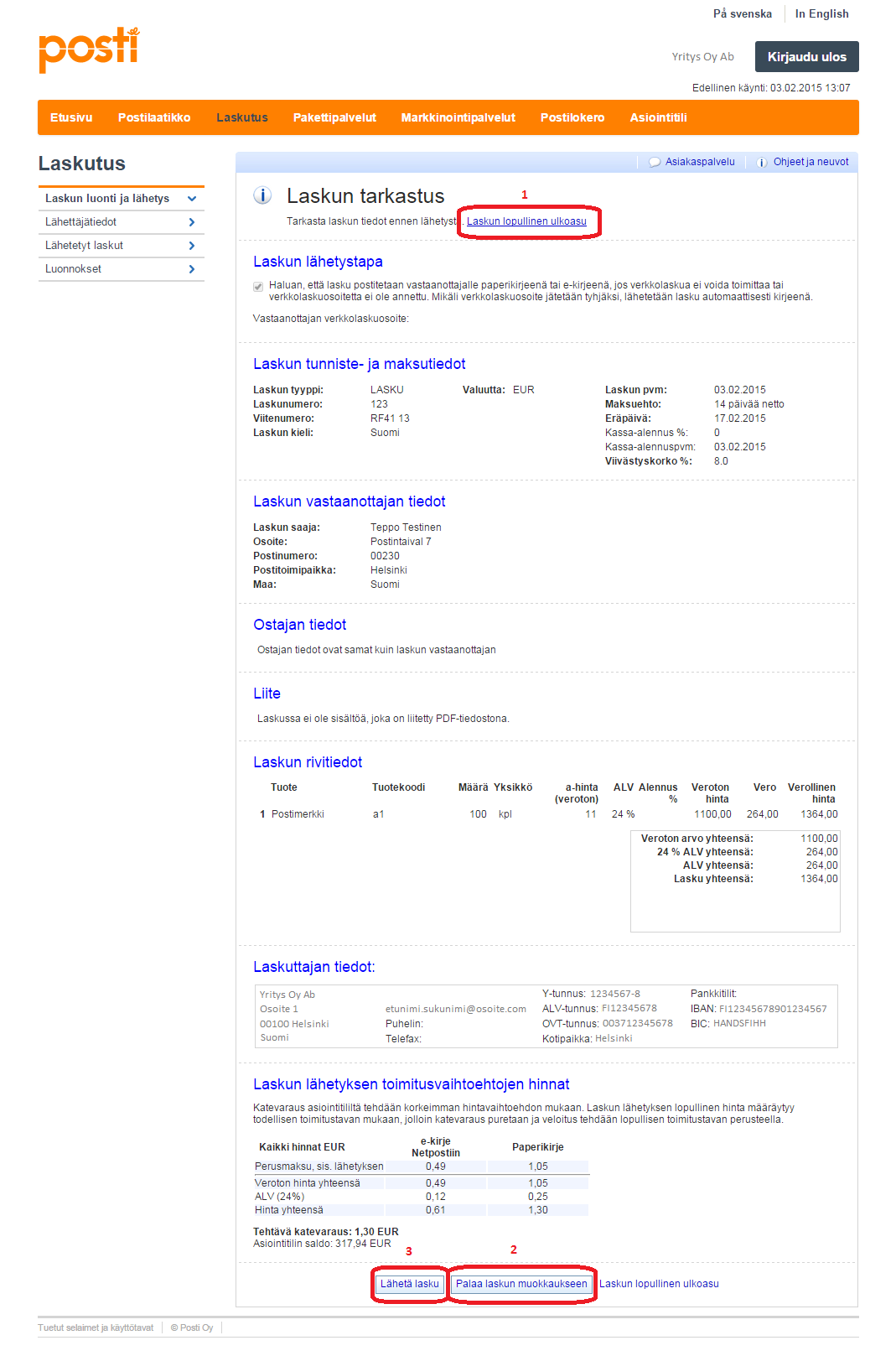 The system verifies that all compulsory information has been submitted and performs a correctness check on the information. After this, the information on the invoice is collected together for your review on the Check Invoice page.
Verify the final appearance of the invoice through the link (1). If there is anything to be corrected on the invoice, you can return to the form by clicking on the button Return to Edit Invoice (2).
If the invoice is ready to be sent, click on Send Invoice (3).
Important information
The recipient will not receive the invoice immediately. The delay is determined by the delivery type used and the routed operator.
The e-invoice is automatically archived in the Sent Invoices folder. You can view the information on the invoice you have sent by opening the invoice. The final appearance of the invoice is shown with a delay.
An invoice sent before can be used as a template for a new invoice by copying it as the new invoice.
Please note that any PDF files attached to the invoice will not be automatically copied to the new invoice.